BACKUP SOLUTIONS
In times when data security is treated, cloud backup storage is a common ground for solution. A kind of IT disaster recovery services like cloud database backup that is cost-efficient and cost-effectiveis becoming a major demand in the industry. TeleAce presents NAKIVO's fast and intelligent replication and recovery backup solution.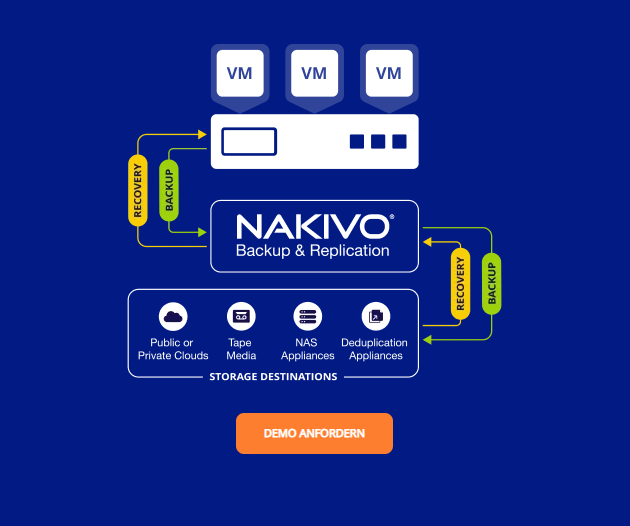 NAKIVO Protects Your Business Data and Applications


An integrated approach to data protection, ensuring that your critical data and applications can be recovered.
Ensure that your VMs, applications and data are recoverable within minutes in any data loss scenario.

Use NAKIVO Backup & Replication to backup physical servers to a variety of destinations and maintain consistent copies of your app data ready for recovery as soon as you need it.

Ensure high-end protection for virtual, cloud, and physical workloads, including those running on Windows PCs.
Industry-Leading Features
Multi-platform support for virtual, physical, cloud, SaaS, NAS.

Flexible installation options.

Backup tiering to cloud and tape.

Instant granular and full recovery.

Disaster recovery automation

ITmonitoring
Superior Technical Support
Focused on customer satisfaction and outstanding user experience.

Ready to assist 24/7 geo-restriction.

Support available right in the solution interface.
With NAKIVO Backup & Replication, the university saved time and money, while gaining peace of mind. I now spend the majority of my time not on backup administration, but on other IT-related tasks.
In NAKIVO Backup & Replication, we found a stable VM backup solution that lets us back up VMs faster and recover VMs in minutes, which is extremely helpful in order to keep our business operations available at all times.
NAKIVO's fast VM backup and VM replication keep our critical VMs running at all times. If our VMware VMs failed, we would only need a couple of minutes to recover with VM failover and failback
Frequently Asked Questions